The best beaches and most stunning caves in the Gulf of Orosei
The route that we recommend this time is sought-after by travelers who love nature, because Sardinia is the right place to see areas once inaccessible to people.

The destination is the Gulf of Orosei, on the central-eastern coast of the island and divided into two areas: the northern one is characterized by pine forests, dunes and long strands that stretch to the promontory of Punta Nera; the southern one corresponds to a part of the Supramonte plateau and Capo Monte Santu.

The sandy beaches, dominated by towering limestone cliffs, are one of the hallmarks of a land that for centuries has been accessible only by sea.

The National Park of the Bay of Orosei and Gennargentu was established to preserve the peculiarity of this area, where there are many rare plants and animal species. This nature reserve is also rich in archaeological sites and is worth a visit: we suggest following the available hiking trails if you like active holidays.

However we recommend a first approach to the Gulf of Orosei by sea to admire the most popular sea caves of Italy.

Join an excursion on the Gulf of Orosei from San Teodoro is easy, just reach Cala di Siniscola, one of the boarding points for daily mini cruises on board the motorboat Imperatrice, a comfortable way to explore this corner of Sardinia.

The Nuovo Consorzio Trasporti Marittimi organizes tours departing from the main ports of Sardinian eastern coast, offering a high level of relax on its fleet and an authentic experience of immersion into wilderness.
 
The eternal charm of Bue Marino cave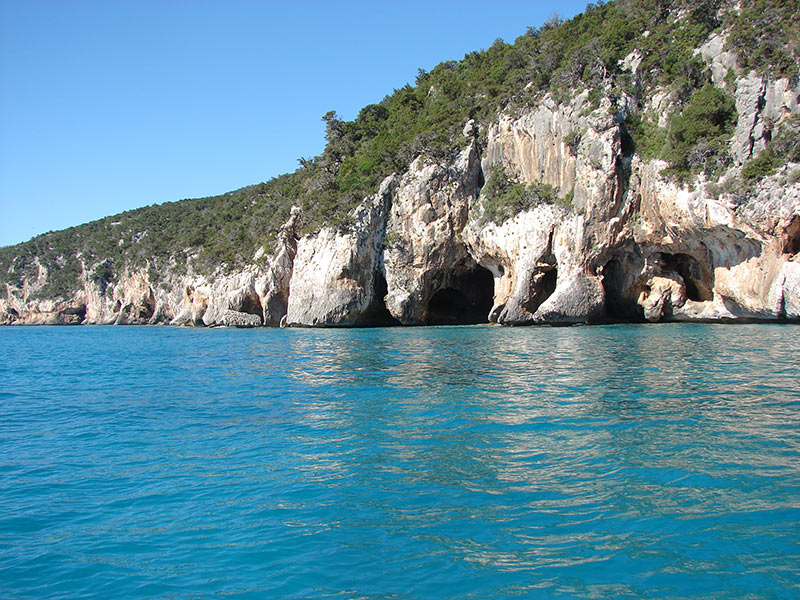 The name of this cave refers to the Mediterranean Monk seal, because this cave is his ideal habitat and is known in Sardinian language as "bue marino".
The guided tour let allows following a lighted walkway along one of the underground branches, a gallery of stalactites and stalagmites that are mirrored in an amazing underground lake, one of the largest in the world. During the visit, an experienced guide explains the origins of this cave, its unique fauna and other useful information.
Cala Luna, beautiful beach and movie set
The beach of Cala Luna is so striking that it has been chosen several times as a set for movies.
Reachable by boat, Cala Luna makes you think of a slice of white moon with the background of an oleander wood that leads by the Mediterranean scrub. The beach is equipped with bar and café, furthermore the shallow waters favor children who love to play on the beach, so it is a destination suitable also for families.
These are some of the treasures that all tourists can see, to get more information about motorboat tours this is the official website of the Nuovo Consorzio Trasporti Marittimi: calagononecrociere.it